Teat beat of sex
Le 09/04/2010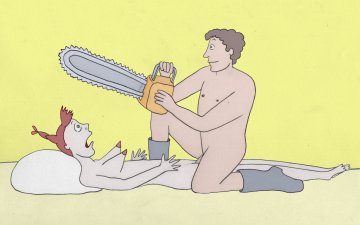 Littéralement, La pulsation mammaire du sexe, est un film d'animation qui devrait susciter des rires orgasmiques. Après avoir gagné le festival du film animé de Floride, et avoir fait partie de la sélection officielle de la Berlinale des courts métrages, l'hilarant et loufoque Teat beat of sex arrive en exclusivité sur CinemaSecondSexe.


On ne vous a jamais raconté le premier French kiss comme cela, ni la quête du petit pénis pour moins souffrir lors de la défloration ou encore la gratouille post-tonsure pubienne.
Ici la cyprine se collecte dans une carafe à vin, les membres turgescents ou pas se transforment en animaux et objets variés, se désolidarisent du reste du corps. Grâce à ces métaphores drôlatiques, on redécouvre des thèmes vieux comme le premier coït au fond d'une grotte, mais sous une lumière inédite. Celle de la femme qui plonge avec volupté et humour dans ces petites choses de l'intimité qui, si elles sont mal dites se range dans le tiroir de la vulgarité et bien dites, dans celui de l'hilarité.
Le montage des dessins aux traits naïfs va à une allure folle, tout comme le texte qui l'accompagne, une initiation sexuelle sous acides. L'illustration musicale est comme dans tous les programmes courts, une ritournelle récurrente qui ici nous laisse dans cette ambiance survitaminée.


Chaque épisode de 2 minutes se conclut par une maxime, notre favorite : "la virginité c'est pour l'huile d'olive". Car notre héroïne va découvrir le loup dans une famille où l'on lui dit que la masturbation est un pêché, la virginité au mariage un devoir...et la curieuse jeune fille va s'empresser de prendre le contre-pied.

A dévorer goulûment, comme cet homme miniature à la bouche assiégée par un clitoris géant et qui aspire ce bouton magique comme un diablotin.



Teat beat of sex, de Signe Baumane, 2009.
En VOD sur CinemaSecondSexe.